Whenever our members travel abroad we encourage them to source whisky for the club, particularly drams that aren't usually found here in Australia. It's a great way for us to enjoy out of reach drams and live vicariously through each other's holidays.
Our collection of holiday whiskies had started to pile up so for theMay tasting we went on a trip around the world through different country's distilleries.
Japan – The Kurayoshi Pure Malt Whisky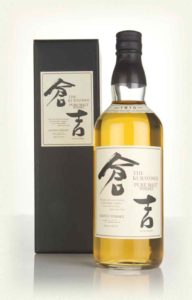 Towards the end of last year Larry Allan was on holiday in Tokyo and although he didn't get a chance to visit any distilleries, he found a hidden bottle shop with a huge selection of Japanese whiskies at seemingly insanely cheap prices compared to Australia. There were a few sessions of late night messages between us as we kept calculating the conversion rates to see what was worth bringing back.
In the end Allan returned with a bottle of The Kurayoshi Pure Malt Whisky, aged in Sherry casks. It's actually a blend of Scottish and Japanese whiskies, along with volcanic-stone-filtered water.
Starting with an unusual nose that was sort of difficult to place, it had a typical soft, faint flavour. You could taste the sherry from the ageing process, but this seems to be a second or third fill sherry barrel, not a first fill.
It was smooth and easy to drink with notes of butterscotch, vanilla, and some even felt the tail had a hint of tequila-esq flavours. I was felt this smooth whisky was nicely balanced but not outstanding and would make for a good session whisky.
It scored an average 6.8 out of 10
Wales – Pendaryn Penderyn Celt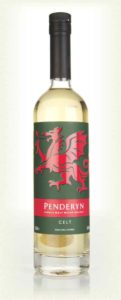 In November last year I was visiting family in the UK and we took a trip into Wales to check out the Penderyn whisky distillery. This is a small but growing distillery, benefiting from the beautifully pure waters that come from the Brecon Beacon National Park. For those who were surprised at there being a whisky distillery in Wales, there are actually two… but the other one only produces around 300 bottles per year.
The Penderyn Celt has been finished in ex Laphroaig barrels to impart a faint smoky flavour. There was very faint, sweet smell of peat to the nose, but more of a pear flavour to the palate. Some felt that you wouldn't know it was such a young whisky from the nose, but the taste had some room for improvement.
It was definitely an interesting dram that made for easy drinking, but it was felt that without the faint peat there wouldn't be a whole lot to it. Later in the night when we went back to it a scent of candy apple had developed which was quite interesting
A step back from the Japanese whisky, it scored an average 6.4 out of 10.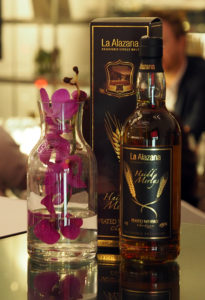 Brought home from a holiday in South America by Rebecca and Ben from the Nundah Sept. this came from the only whisky distillery in Argentina, and we believe all of South America. A great follow on from the Penderyn, the creators of La Alazana distillery have ties to Wales. Still in small production, you won't find these in bottle shops yet and will have to visit the distillery itself, which is quite a trek to find.
The whisky we had to enjoy was aged in Chardonnay casks and lightly peated.
You could pick up a light scent of peat to the nose, but it wasn't too strong on the palate. The peat, it was agreed, was its own flavour and not a copy of traditional Scottish peat as some non-Scottish distilleries try to achieve.
It had a wonderfully deep flavour and very heavy legs. The chardonnay flavours reminded some of the French Armorik chardonnay finished whisky. Others noticed citrus and fruit flavours, wild nuts and even honey. There was quite a lot there, especially for a distillery that only started production in 2011.
It scored an average 7.9 out of 10.
Scotland – The First Editions Craigellachie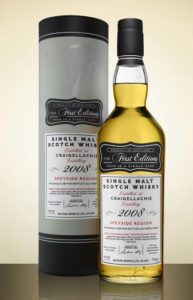 Another bottle from my holiday last year, I found this in a small specialty whisky shop down by the beach in Brighton. It was stocked with a huge range of independent bottlings and was run but a Scottish woman who was very excited to hear a member of an Australian whisky tasting club was visiting her store. She kept insisting I sample all different whiskies she thought we would like. Fearing I was going to end up too drunk to catch the return train to London, I had to snap up an armful of whiskies, pay up and leave.
One of the bottles I left with was a single cask expression of Craigellachie, aged in sherry hogshead for 9 years before bottling by independent bottler Hunter Laing & Co.
Upon pouring you could tell we were instantly back in Scotland, both in smell and taste. There was a wonderful smoky toffee that was carried across smoothly, clearly displaying the extra years in the barrel. The smokiness was a very woody smoke, with an intense full-bodied flavour profile. Some felt this whisky would be ideal for pairing with BBQ meats.
The hero of the night, it scored an average 8.4 out of 10.
India – Amrut Fusion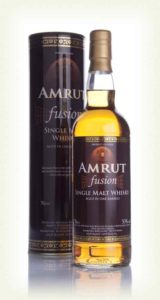 While we still have a number of holiday whiskies left in our stores, we didn't want to double up on any countries. Our final dram was an Indian whisky, but it was rather boringly purchased locally at Dan Murphy's.
The Amrut Fusion is Indian made from Scottish peated barley and is quite highly rated in the Jim Murray Whisky Bible and several whisky awards over the years.
The first thing we noticed was that this was quite smooth for a cask strength whisky. You could quickly pick up toffee and salty flavours, as well as the oak from the barrels, but not much peat flavour for peated barley. It was felt that there must have been caramel added, but it complimented the earthy flavours well and had a surprisingly delicate aftertaste. There was a lot going on in there and it was thought to be a good dram for the price point.
It scored an average 7.2 out of 10.
If you are going on holiday somewhere with a unique whisky offering and you're happy to bring something back, please do liaise with us. We'd love to source some more holiday whiskies for everyone to enjoy.