For April we were fortunate enough to have a special guest to lead an exclusive Bruichladdich whisky tasting.  Mark Hickey, whisky rep and connoisseur for Spirits Platform joined us fresh from a trip to Scotland to visit several distilleries, including Bruichladdich in the Islay region.
It was definitely an educational experience as Mark was able to delve into the Bruichladdich distillery, the region and history, showing an extensive knowledge of Scottish whisky.
The Bruichladdich Distillery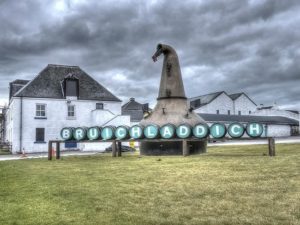 Started in 1881, the Bruichladdich Distillery is one of 9 in Islay. While many of these distilleries have modernised their process, with mass producers like Laphroig and Ardbeg able to be run on minimal staff, Bruichladdich to this day remains very traditional.
Much of the equipment used in the production of Bruichladdich whiskies, including Port Charlotte and Octomore, is original Victorian equipment with no computers to automate. This makes the production a very artisan, hands-on process. While much larger Islay distilleries are able to run on 2-7 staff thanks to automation, Bruchladdich runs with up to 95 staff, making the distillery the largest employer on the island.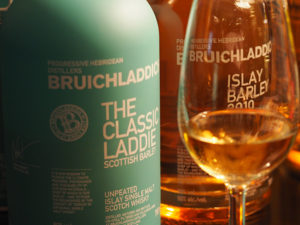 Starting with The Classic Laddie, this used to be used in a number of other blends. The first thing you may notice looking at this dram in the glass is a lack of colour. Bruichladdich avoids adding flavours to its whiskies, letting the traditional flavours come through.
While there is no peat in the Classic Laddie, it still has an incredibly strong nose and flavour, carried across with a smooth sweetness to make for easy drinking.
Mark parted a number of lessons on us throughout the night, one of which being to leave your mouth open when you nose whisky with high ABV so you don't burn your senses.
A great start to the night, this non chill filtered whisky held its flavour, even with a drop or two of water.
It scored an average 7.4 out of 10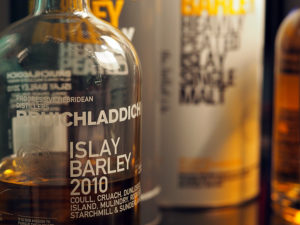 Aged in 4 different kinds of barrels, this whisky makes the barley the hero, allowing for sweet, robust flavours with an enchanting nose that's enjoyable just on its own.
The flavour carried a smooth yet crisp sweetness, which became more prominent with the addition of a drop or two of water. A rich aftertaste ensured this dram finished on a good note.
Working our way up, this dram scored an average 7.9 out of 10.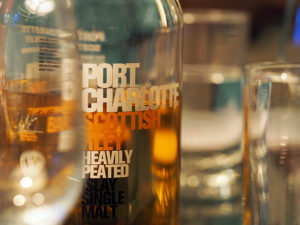 Two miles from the Bruichladdich Distillery lies the village of Port Charlotte and the ruins of the Lochindaal Distillery. The heavily peated Port Charlotte range of whiskies are a tribute to those who once worked on this now silent distillery. For authenticity the spirit is even aged in the original old stone warehouses in Port Charlotte.
The Port Charlotte Scottish Barley is a heavily peated whisky with a very high 40PPM*.
*Peat in whisky is measured scientifically in 'phenol counts per million', or PPM. Renowned peaty whiskies like Laphroaig and Ardbeg range from 40 to 55 PPM.
Presenting a beautifully smoky nose, the flavour was carried across with incredible smoothness. You could note a saltiness to this whisky, somewhat a signature of peated Islay whiskies. While this dram punches well into the weights of Laphroaig and Ardbeg, its pricing facilitates more regular enjoyment.
This dram earned an average 8.3 out of 10.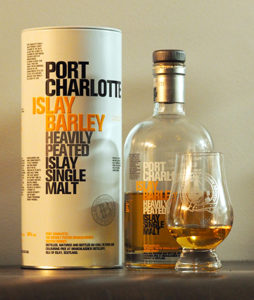 This dram represents a milestone for the Islay region, as it's the first heavily peated whisky in the island's history to be distilled using Islay grown barley. The Atlantic air that washes over the aging casks by the shores of Loch Indaal is said to impart a signature salty, citrus tang.
There was an enjoyable balance to this dram, in which many did pick up the citrus notes mixed in with salt and a slightly lighter peat than the previous dram. There were some wonderfully delicate fruit flavours, a dry peat and an aromatic finish.
It's also worth noting that Bruichladdich doesn't bother to apply for or display any awards – because they know they're good.
This 100% Islay dram scored an average 7.9 out of 10
Octomore 7.1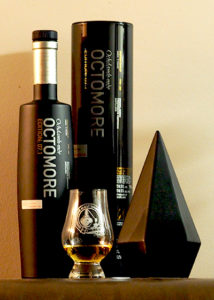 The much anticipated drink of the night, the Octomore range is the peatiest selection on the market by phenol count. It measures at 208PPM, while the next peatiest whiskies come in under 100PPM
It carried a strong nose, but still not as strong as you may expect. There was a heavy, smooth peat flavour that carried across the palate nicely, warming the chest as it goes down.
Aged only 5 years, this was an impressively balanced whisky that lived up to the hype.
The hero of the night, it scored an average of 8.85 out of 10.
It was quite an enjoyable night to learn so much about the distillery, history and the region from such an expert. Through this tasting our members were able to order their favourites at a discounted rate, something we will be looking to arrange again in the future.
If you'd like to attend a tasting such as this, and benefit from member pricing specials when they're available, make sure you add your details to our mailing list.