As we welcome the cold and the arrival of weather perfect for enjoying whisky, we were treated to a delicious well-rounded selection from Arran this month perfectly suited to the change of season. Based at Lochranza on the Isle of Arran using local waters and non-chill filtered, caramel free processes, the Arran distillery revived and maintains the traditions of the isle's distillation practices used since the 1800's.
Tonight's selection started with the standard Arran 10yo, followed by the Amarone Cask, the Sauternes Cask, the Port Cask, and finishing with the 12yo Moscatel Cask. Known for the smooth malt flavours, we were all very eager to experience their varied cask finishes. We also decided tonight to try a different style of scoring our drams; normally we would score after each dram though this evening the scoring was shifted to the end of the tasting session to see if this would provide a more accurate judgement. Over the next few tastings the results will determine if this is a more effective way than previously used.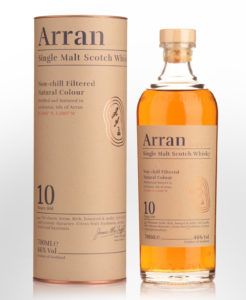 Winner of many of awards including gold at the World Whiskies Awards, the Arran Malt was also nominated as one of the twenty defining whiskies of the past twenty years. A bottle of this should be on everyone's list try to at least once; it's a staple, well-balanced classic.
Nose: Sweet and malty with fresh wood and apples
Palate: Fruity with ripe banana, honey, vanilla, and wood spices
Finish: Spicy fruit and a long malt finish
Score: 6.7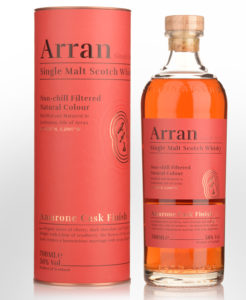 Initially matured in bourbon casks, this batch is finished for eight months in a selection of ex-Amarone casks. The red wine gives this whisky a beautiful burnished copper colour and makes for a perfect autumn/winter dram or one to be paired with chocolate and other foods rich in flavour.
Nose: Cherry, Turkish delight, and chocolate
Palate: Poached pears, notes of rhubarb pie and cinnamon with touches of cranberry and honey
Finish: Sweet and lingering with dark chocolate and more Turkish delight
Score: 6.3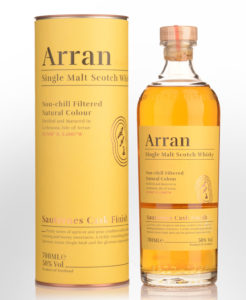 Similar to the Amarone cask, moving from bourbon casks into ex-Sauternes casks from Bordeaux this dram is truly a gourmet whisky. The white wine flavours complement the malt very well adding a succulent layer of fruit, bread, and honey flavours.
Nose: Honey and sweet citrus
Palate: Rich honey sliding into spice and zingy salt opening into sultanas and toasted oak
Finish: Honey, apricots, melon, and honeysuckle
Score: 6.4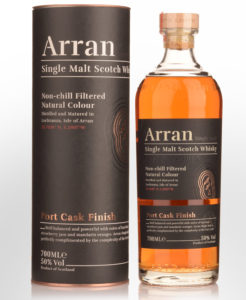 To complete the selection of wine cask finishes is the delicious Portuguese Port cask batch. The renowned recognisable malt flavour of Arran is more subdued in this whisky by the warm and sharp flavours of the unique port finish.
Nose: Cinnamon and baked apples
Palate: Vanilla spice, dried fruits, and nuttiness followed by fudge and notes of honey
Finish: Spice, bitter orange, chocolate, and hints of cherries
Score: 7.5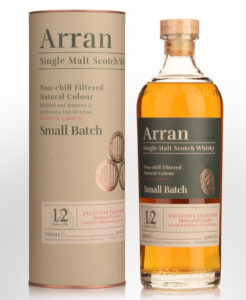 Unlike the majority of Arran whiskies which are first distilled in first-fill bourbon barrels, this particular dram is matured entirely in Moscatel casks making for a very rare batch among whiskies. A delicious small batch of only 1018 bottles, this particular scotch is a rare one definitely worth acquiring.
Nose: Sweet odours of a bakery, cinnamon buns and apples
Palate: Fresh but weighty, pressed cider apples with notes of orange and elderflower
Finish: Sweet and oily lingering exotic fruits with hints of mint freshness and spice
Score: 7.5
It was no surprised that the rarest dram of the night's selection was one of the most popular, alongside the port finish; all of the Arran range scored well and were liked by our members. Praise should definitely be given to the distillers for having such a well-rounded variety of whiskies. We encourage anybody not familiar with Arran to add a bottle of the 10yo to their collection and try some of their delicious wine-cask finishes.