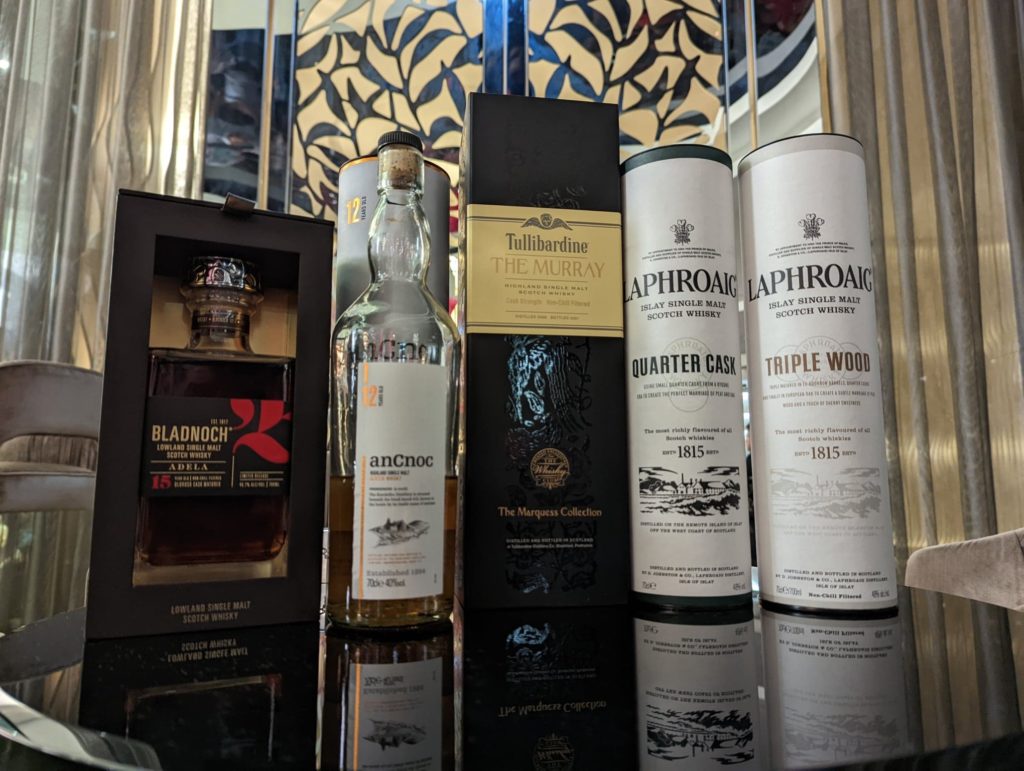 After taking a break in January we decided to commence this year's tasting session with a bold line-up of whiskies from some of our favourite distilleries in Scotland. We combined our AGM with our first tasting this year to welcome some new members to the board and a new Chieftain as the former has now moved up into the Laird position within Queensland. Celebrations were abound as we worked our way through Scotland from the Lowlands to the Highlands and finished on two delightful Islay drams. The tasting began with the AnCnoc 12yo followed by the Bladnoch 15yo, Tullibardine's The Murray Cask, and finishing with a powerhouse combo of the Laphroaig Triple Wood and the Quarter Cask. While many of these distilleries are familiar to our members, many haven't had the pleasure of tasting these specific drams and were eager to give them a rating. This evening we tried a slightly different approach; each whisky was scored upon initial tasting and then again at the end of the evening. As seen below we will give the initial and the final score. Overall we had 20 attendees and ended the night with some surprising results.

---
AnCnoc 12yo – Highlands Single Malt 40%ABV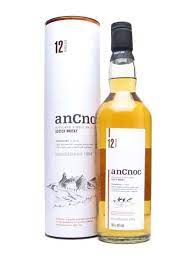 The AnCnoc label entered the scene only recently in 1993 but the distillery Knockdhu was actually founded back in 1894 and has a well-documented history of making fine whisky. The brand name was changed to the Gaelic name AnCnoc, meaning "the Hill" when the distillery was acquired by Inver House Distillers Ltd who wished to avoid confusion with their fellow distillery Knockando. Although a traditional non-sherried Speyside style of whisky, the AnCnoc is a highland dram aged in American-oak Bourbon casks and thoroughly enjoyable and quite complex.
Our members noted the sweet, subtle, and almost crisp fruity notes of this dram with general approval and considered it a good entry level expression.
Nose: Aromatic and sweet, fresh flowers and honey
Palate: Crisp, subtle, and sweet with notes of spices, almonds, vanilla
Finish: A medium finish with touches of barley and oak
Initial Score: 6.6
Final Score: 6.1
---
Bladnoch Adela 15yo – Lowlands Single Malt 46.7%ABV
Non-chill Filtered & Natural Colours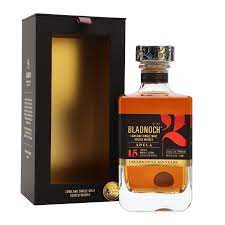 The name Adela comes from the Latin 'rich and noble' and its definitely fitting for this remarkable whisky. Bladnoch is definitely one of our favourite distilleries and we were all excited to see a return of one their best drams and the winner of multiple gold awards. Aged in a combination of Spanish and American oak ex-oloroso sherry casks creates a rich and smooth powerhouse of flavour. Of particular stand-out to our members were the full-body and smoothness combined with the bold flavours of orange, chocolate, and dark fruits from the sherry casks.
Nose: Raisins and sultanas with hints of orange and wood spices
Palate: Rich and smooth sherry with chocolate, dark fruits, and a hint of cinnamon
Finish: Rich caramel, nutty, and long finish
Initial Score: 7.3
Final Score: 6.9
---
Tullibardine the Murray Cask 12yo – Highlands Single Malt 54.6%ABV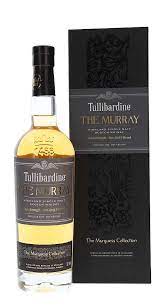 Tullibardine is located in one of the oldest places known for brewing and distilling in Scotland, having been a brewing location since 1503 and beginning a new chapter in whisky history with the first distillery to be built in the 20th century was completed in 1947. The first dram was distilled in 1949 and the distillery performed well through the whisky boom in the 50's becoming known for its blended varietals. After lying dormant from 1994-2003, the Tullibardine distillery was bought and revitalised into a leading single malt house. These days Tullibardine is one of only six distilleries left in Scotland that does everything on-site from milling the barley to decanting the casks and bottling in-house. Aged in American oak and named after Sir William Murray, the second Marquess  of  Tullibardine, this dram flaunts the fruity and biscuity character for which the distillery is renowned.
Noted most by our members were citrus and fruity flavours and uniquely this whisky was the only one of the evening which increased in score as the night progressed.
Nose: Orange and tropical fruits with hints of lemon and vanilla
Palate: Zesty lemon changes to melon, creamy caramel and spice
Finish: Long and chewy with notes of caramel, cinnamon and baked apples
Initial Score: 6.6
Final Score: 7.4
---
Laphroaig Triple Wood NAS – Islay Single Malt 48%ABV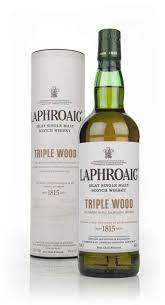 Laphroaig is instantly a distillery we all look forward to tasting and the triple wood is no exception. While almost all our members are familiar with their staple range, this dram was new to a few and is unusual for Laphroaig. Being aged in three different types of cask starting with American oak ex-Bourbon barrels and after aging the most suitable spirits from these are then blended and transferred into small 19th Century Quarter Casks for a second maturation before finally moving into specially selected large European oak Oloroso sherry casks. The transferral between types of casks gives this whisky more contact with the wood imparting notes of spice and cedar whilst retaining lasting notes of sherry sweetness. Our members particularly noted the strong peat and medicinal notes balanced by touches of oak and spice creating a deep and powerful blend of flavours.
Nose: Molasses and toffee with hints of smoke
Palate: Dry medicinal with exotic spices and smoke and subtle sherry
Finish: long and oaky and smoky with hints of spice
Initial Score: 7.3
Final Score: 6.7
---
Laphroaig Quarter Cask NAS – Islay Single Malt 48%ABV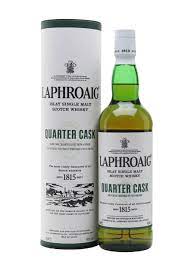 The Quarter cask features an interesting doubling of flavour being matured in two types of American oak casks. Commencing ageing in ex-Bourbon barrels before being transferred and finished in quarter casks, this whisky also has more contact with the wood leading to sweeter flavours like coconut, banana, and vanilla developing in harmony with the renowned Laphroaig flavour of smoky peat and oak. Landing with the highest score of the evening, this dram was enjoyed by all and many remarked upon the smoothness, well-rounded flavours and balance of notes present in this whisky.
Nose: Strong smoke with sweet malt and hints of banana
Palate: Full bodied, rich and sweet malt with peat and wood-smoke
Finish: Long sweet and smoky with a touch of vanilla
Initial Score: 8
Final Score: 7.7
That concludes our February tasting and we encourage all whisky drinkers to try something new even if it's still from one of your favourite distilleries. We look forward to our upcoming March tasting and the fantastic Irish line-up we have prepared. Stay tuned as we explore the other home of whiskey and the joys to be discovered.