We've been changing things up a bit for 2017 and have recently moved our monthly tastings to the Grand Central Hotel. To celebrate this move to a new and more comfortable location, we brought together a selection of cask strength whiskies for our February tasting.
These drams are from distilleries in the speyside region, generally all within 10km of each other. We felt this would give us the opportunity to compare what has been done with the whiskies after distilling, rather than what each region produces.
Starting off with the fairest of the three beauties, Glenlivet's Nadurra was aged in new, American oak barrels, leaving the whisky pale in colour. For most of us on first sip, all we got was the hit of its 59.8% alcohol content. It felt like the subtle and delicate flavours Glenlivet is known for were too subtle to make it through.
However, after sitting on it for a while, quite a few other flavours started to break through. There were definite notes of vanilla and something between apple and pear. It turns out it was a lot more complex than we first thought and a surprisingly easy whisky to drink, considering the strength. A drop of water opened up a creamy taste, somewhat similar to creaming soda.
The scoring ranged widly, with some rating it as low as 5 out of 10, and others as high as 8.5. It got an average score of 6.8 out of 10.
Info sheet: Glenlivet Nadurra First Fill Cask Strength
There wasn't much to the nose on the Aberlour A'bundah, in spite of the 60.9% alcohol volume. The initial flavour was quite smooth and subtle, with most of the complexity on the lingering finish. You start to notice the sweet sherry notes that come from the aging barrels, with notes of honey and almost caramel flavours. The faint sherry smell of the dram evolves as your drinking and starts to become more of a port aroma.
While some found it almost too sweet, most of us quite enjoyed it. Some even claimed it reminded them of a Lark cask strength.
There was less of a divide on this whisky, scoring an average 7.6 out of 10.
Info sheet: Aberlour A'bunadh Cask Strength Batch 55
Sitting at a neat 60% alcohol volume, there was a lot of punch at the initial nose and taste for the Glenfarclas, only to drop off rather quickly. We all noticed fruit cake flavours, such as raisins or spiced apple, and found the complexity increased as you continued tasting.
On adding a drop of water, we expected to see the flavours soften – surprisingly the taste got more savage, like an angry Scot fighting back at our audacity of adding water to this fine creation. Definitely a drink to be enjoyed at face value – there's more than enough there for that.
This was notably more of a cask strength style whisky, though not necessarily favoured by everyone. It scored an average 7.2 out of 10.
Info sheet: Glenfarclas 105 Cask Strength
The move to the Grand Central Hotel was certainly a positive change. The bar facilitated with our own private area, glasses, water, and plenty of food to go with our drams.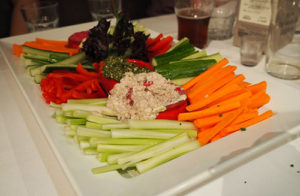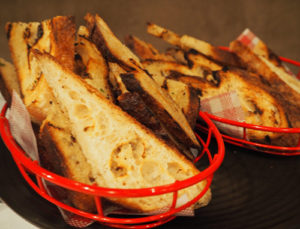 Plans are well underway for our next tasting on Wednesday 29th March. In honour of St Patricks Day (March 17), we're putting together a selection of Irish whiskies.