Hello All,
The February 2016 meeting of the Grand Central Malt Whisky Sept was held at the TANK Bar and Restaurant situated at 32 Turbot Street Brisbane and many thanks to the staff there for this privilege.
Filip again excelled by presenting a flight of three Taliskers for the evening.  We started with the Talisker Port Ruighe, the Talisker Storm and the Talisker Dark Storm.  This was the order of the flight.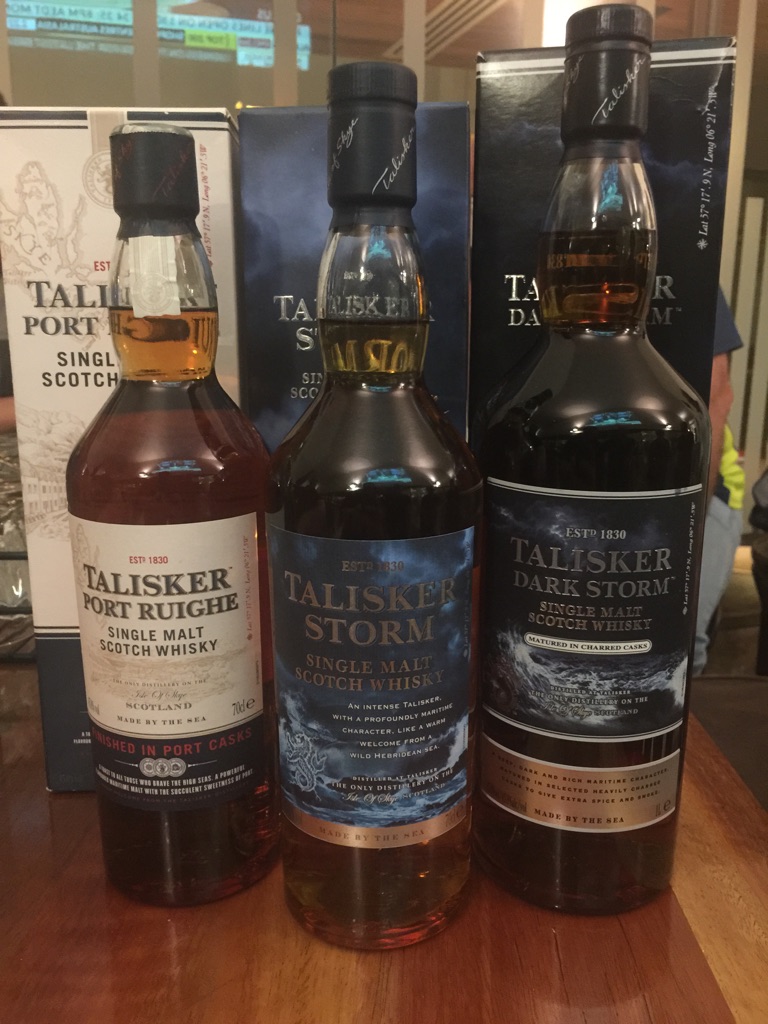 The Port Ruighe is an un-aged single malt with a 45.8% alcohol.  As suggested it is finished in port casks but is actually named after the major trading port on the Isle of Skye.  It has succulent sweet notes of rich berries for a contrasting taste experience.  Light, slightly sweet and very drinkable.
This was followed by thee  Talisker Storm again an un-aged single malt with 45.8% alcohol.  A bigger mouth feel with a briny, peppery finish obtained by blending various different expressions of Talisker.  A boomer drink, not for the faint hearted.
To finish we sampled the Talisker Dark Storm, another un-aged single malt with 45.8% alcohol.  In expecting this to be another step up in spice and pepperiness we were disappointed.  It is finished in heavily charred casks to give it a spicy smokiness.  This expression was a subdued copy of the Storm with an integrated spice, pepper and smokiness that differed from the usual peat derived smoke.  To some surprise this produced a very drinkable malt.
For the evening after several tastings of all three expressions the Dark Storm was favoured over the Storm and followed by the Port Ruighe.  All three are unmistakably Talisker and follow the tradition of Skye.