After the smooth Irish whiskies we enjoyed at the last whisky night, we decided to throw ourselves right in the thick of it this month with an Isle of Islay whisky tasting. Selecting four of the big names from the Islay region, you could smell the peat in the air as we made our way through some special bottlings from Lagavulin, Caol Ila, Laphroaig and Ardbeg.
Lagavulin Limited Edition 8yo
From Fort Ellen, Isle of Islay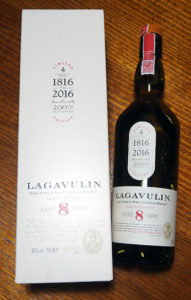 Considering Lagavulin's popular 16-year-old whisky, many on the night were a bit surprised to see this age statement. As it turns out, this bottling from 2016 commemorated the 200th anniversary of the distillery, and also celebrated an acclaimed 8-year-old expression sampled by illustrious whisky chronicler, Alfred Barnard, on an 1886 visit to the distillery.
On first sniff there was an almost creamy smoke smell, which delivered more punch to the nose than the taste buds. It was definitely less spicy and smoky than you'd expect from the first impression, with a grainy sweetness that hadn't been taken over by the wood yet. The flavour sits on the back of the pallet with bitter notes and a long tail, like a soft smoke trail that lingers after you've finished. There was also a creamy texture to the taste that made it very easy drinking for a peat whisky.
In spite of the history, many felt it didn't really stack up to the 16 year, and could have used a few more years before bottling. It scored an average of 7.25 out of 10, with pretty much everyone giving it between 6 and 8.
Info Sheet: Lagavulin 8yo Limited Edition
Caol Ila Distiller's Edition
From Port Askaig, Isle of Islay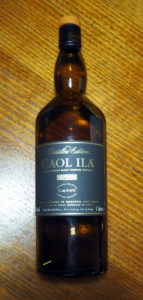 This  special distiller's edition was distilled in 2001 and bottled in 2013 upon a limited release. The colour and flavours are meant to reflect the clarity of the sunshine flooding the landscape of Caol Ila's secret cove in the Isle of Islay.
With more of an edge to the nose, once again this whisky was surprisingly subtle on the peat. It was more crisp than the previous sampling and had more rounded flavours, seemingly the work of another four years in the barrel. You could taste some fruit notes and it was almost like a Highland Park with a little more smoke and oil. Unfortunately the peat died in the glass rather quickly and it had a relatively short tail for what starts bold at the nose.
Thinking of this as a more rounded whisky and disregarding the loss of intended peat, it scored an average of 7.3 out of 10, with more of a unanimous agreement around 7-8.
Info Sheet: Caol Ila Distiller's Edition
Laphroaig Quarter Cask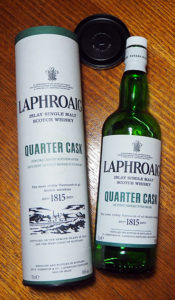 This edition highlights methods from a bygone era; using smaller cask sizes to increase wood contact and create the perfect marriage of peat and oak. Still maturing whisky from ex-bourbon barrels is transferred to quarter casks and left to mature a further 7 months.
Expecting stronger flavours in this round, we were surprise to find less smoke on the nose and a honeyed vanilla scent. Never fear – there was more smoke on the palate. On first sip it was delightfully thick and smoky with a hint of sweetness, almost like honeyed ash. Though smoky and peaty, the flavour was balanced enough to not be overpowering.
There was a great level of complexity to the nose alone, even after it had been in the glass for a while. Unfortunately, bold peat flavours aren't to everyone's tastes, so not everyone quite knew what to make of this.
Member story: For some families in England, Laphroaig has a traditional role as a Christmas whisky. Though it was agreed that it's favoured position may have an element of Stockholm Syndrome.
There was a broad range of scoring with peat lovers delivering as high as 9 and 9.5, and those averse to the smoky flavours scoring as low as 4. Not an all-round crowd pleaser and more of a cult classic, it got an average score of 6.7 out of 10.
Info Sheet: Laphroaig Quarter Cask
Ardbeg Corryvreckan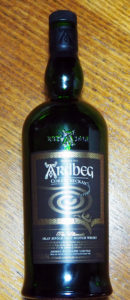 Named for the whirlpool to the north of the Isle of Islay, this whisky is meant to be like a whirlpool in the ocean – intense, powerful, with swirling aromas and torrents of deep flavours lurking beneath the surface – all brought together in a beautifully balanced dram. 'The untamed spirit of Islay.'
That spirit certainly came through in an incredibly robust single malt full of intense honey and smoke flavours. When you get past the initial hit, it's incredibly well balanced; a miraculous feat considering the boldness of all within. Imaging a choir made of raging, crashing ocean sounds, brought together in perfect harmony to make a loud, but peaceful melody.
While this would most likely be too much for a new whisky drinker, there is little to fault in the balance and richness of flavour. It turned out to be a new favourite for both Rick and Lee, with many others quite impressed.
As with Laphroaig, the Ardbeg saw a range of scores that made an average of 6.6 out of 10. However, it's worth mentioning that there were multiple scores of 9.5 in the mix.
Info Sheet: Ardbeg Corryvreckan
That's all for this tasting. For now, keep an eye out for our next tasting on Wednesday the 7th of June at a new, temporary location as we await the renovations of the Platform Bar.
Slainte,
Nath Martyn
Chieftain