Our July whisky tasting for this year fell on American Independence Day. As a tip of the hat to this date, we decided to hold a tasting of American single malt whiskeys.
There are single malts hailing from the United States, though they are few, and even fewer here in Australia. Still, we managed to uncover a selection to take a journey through a unique offering.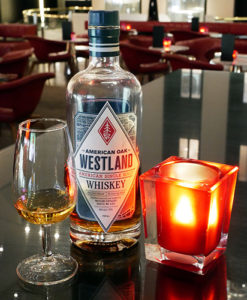 Made from barley grown in Washington state and aged in American oak barrels, this is the core expression of the Westland distillery.
To the nose it was sweet and fragrant, becoming smooth and thick when it hits the palate. At 46% it tastes stronger than it is, though not in a bad way. While it was smooth and faintly sweet to taste, some felt it lacked a little flavour that ended very abruptly without a tail.
The first of the nights scoring, it came through with an average 6.7 out of 10.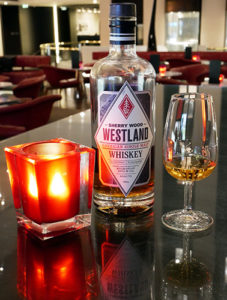 The difference with this single malt is in the ageing! Having been matured in imported Spanish Sherry casks that held Pedro Ximenez Sherry for almost a century.
The Sherry nose on this carried through a strong, almost fruitcake scent. To taste it had a lot more balanced complexity than the previous dram with a better body and subtle spices to the sweet flavour. Considered bold and sweet, there were some who felt it was too sweet.
It received an average 7.55 out of 10.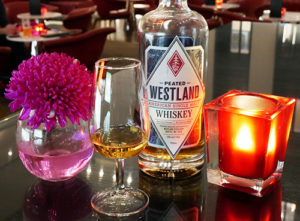 Made with a combination of peated and a peated single malt, this expression is intended to be smokey without dominating the palate. Interesting,y, the peat is not imported and is also sourced in Washington state.
While the scent of peat was strong, it was nowhere near as heavy when It hit the palate, instead carrying some soft sweetness. Some felt it had the smooth background flavour of Laphroaig, without the familiar bite. While enjoyable, it's not necessarily what you buy when you're looking for peat. Still, the whiskey carries its own flavour and is in no way a watered down or duplicate version of Scottish drams.
It received an average score of 7.7 out of 10.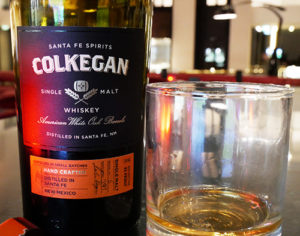 Probably one of the more interesting drams to reach our tastings, Colkegan is made in Santa Fe, New Mexico by an English immigrant.
Double distilled and aged in bourbon barrels, it's the smoke that is truely unusual. About a third of the malted barley is dried over mesquite fires, sourced from the branches of desert shrubs. Mesquite is actually an expensive Spanish wood, once used for ship hulls, and today featured in premium furniture.
The resulting nose was quite enjoyable, not necessarily peat, but peat adjacent. The flavour was just as unusual, with faint vanilla notes and again, a smokiness that was difficult to place. The flavour changed over time, though more interesting than especially enjoyable.
While not a favourite, many respected that the distillery was doing something different, so it scored an average 7 out of 10.